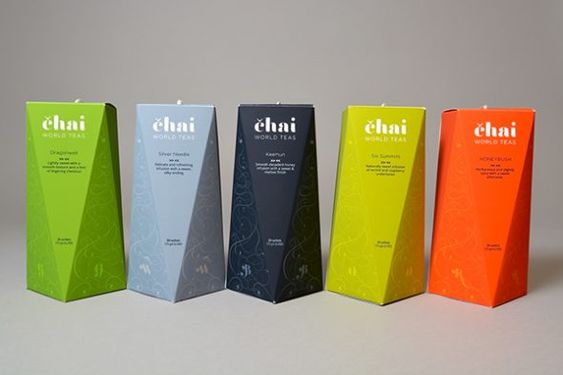 Packaging Design Trends in 2021
The Year of Idea, Innovation and Inspiration
As they say "The first impression is the last impression" the packaging of a product creates the first impression on the consumers which lasts for a long time in their minds. While we should try our best, not to "judge a book by it's cover" but the truth is, we mostly get attracted by our first impressions Those who have purchased an "Apple" product in the past know it quite well that how wonderful the experience is of unboxing their products. It's not only just an exciting process, but there's a great aura of intrigue which makes the entire process of unpacking more beautiful.
Packaging is an integral part of the marketing strategy which is most important for any product or brand. It is absolutely essential in order to attract the consumer's attention, as many consumers judge a product by its packaging before they buy. In other words, the packaging of a product literally becomes the identity of the product. Moreover, the packaging design matters incredibly too. Packaging design also helps the brands to differentiate their products from the other similar ones through their different logos, colours or shapes. Innovative designs make your product stand out from the crowd and pull the customers.
This year, we saw that how critical ecommerce has become in our everyday lives and that's not going to change anytime soon. In ecommerce, you miss the experience of walking to a store and experiencing the brand ambience, something which even the most immersive websites can't provide to the customers. That's why the packaging designers and business owners are trying their best to deliver a piece of branding right to your doorstep.
As the year 2020 comes towards an end, we're eagerly looking forward to the new packaging design trends that 2021 has for us. At a glance, they look pretty different from each other—they have simple geometry, right alongside super detailed ink drawings and fleshed out characters. But, there's actually a cohesive theme, which is away from the packaging design that looks not only as "commercial", rather it's more focussed on packaging that looks like a piece of art. The goal isn't simply to replace the "in store" experience, but to meet the consumers where they are now and where they'll be in the future. It's all about creating a new, more impressive brand experience through the unique packaging trends of 2021.
Top 12 Packaging Design Trends
1. Minimalist, Natural and Pastel Colour Combination Designs: Use a simple, clear design to define a single product category. Use accents of the bright colours in your packaging. Let the colour of the product speak for itself, creating a stunning rainbow of the identical products. While pastels will soften an otherwise harsh looking minimalist packaging design, a minimalistic and clean design will ensure that your pastel packaging looks modern and grown up. You can keep it simple and stylish by picking one pastel shade that speaks to your customers and brand or you can work with a combination of pastels to achieve a playful and dreamy look.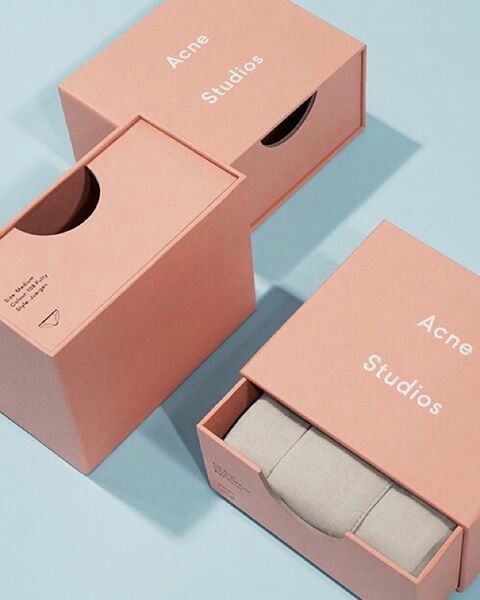 https://www.pinterest.com/pin/531565562247275139/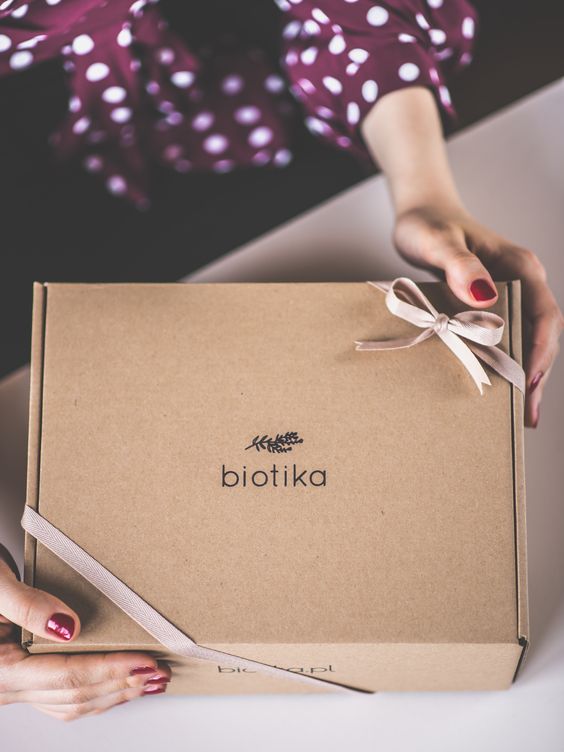 https://pl.pinterest.com/pin/601300987723035655/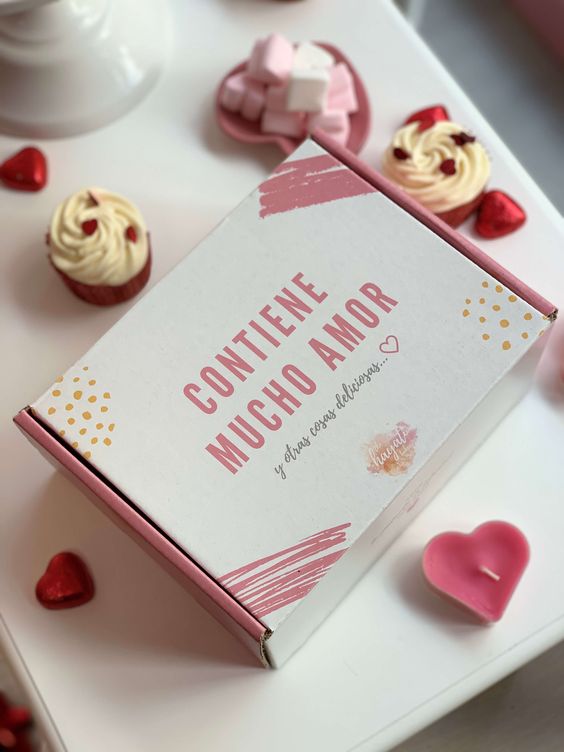 https://pl.pinterest.com/pin/612630355554259969/
2. Bright and Creative Designs: If your product is brightly coloured, then inspiration can be drawn from it. Each category of a single product can have a different colour and the colours should also be on the sides and in the graphics too. The product line as a whole should feel connected, but should be just different enough that you can get to know if a product is different from the others.

https://pl.pinterest.com/pin/95631192074791568/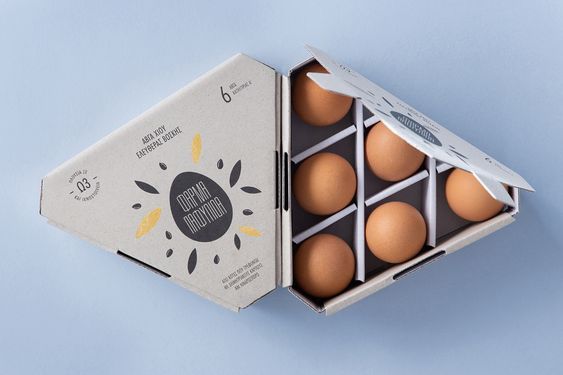 https://pl.pinterest.com/pin/208924870201591231/
3. Modern Packaging Designs: Modern, sleek, and simple designs stand out. Use clean lines, simple colours and sleek fonts to achieve a modern look. This packaging has a very modern approach and you can make it even more modern by keeping it gender neutral. It shouldn't lean one way or the other and should draw instant attention from viewers who are curious to know about what the product is for. In 2021, you can expect to see lots of packaging designs where the packaging itself is a piece of modern art. This trend is mostly gaining momentum with high-end products, but you could see it on the middle range of products too. Designers draw lot of inspirations from paintings and paint textures by making them the focal point. The goal is to thin the line between the packaging design and fine art, demonstrating that even a bottle of wine which will eventually end up in recycling, is unique and beautiful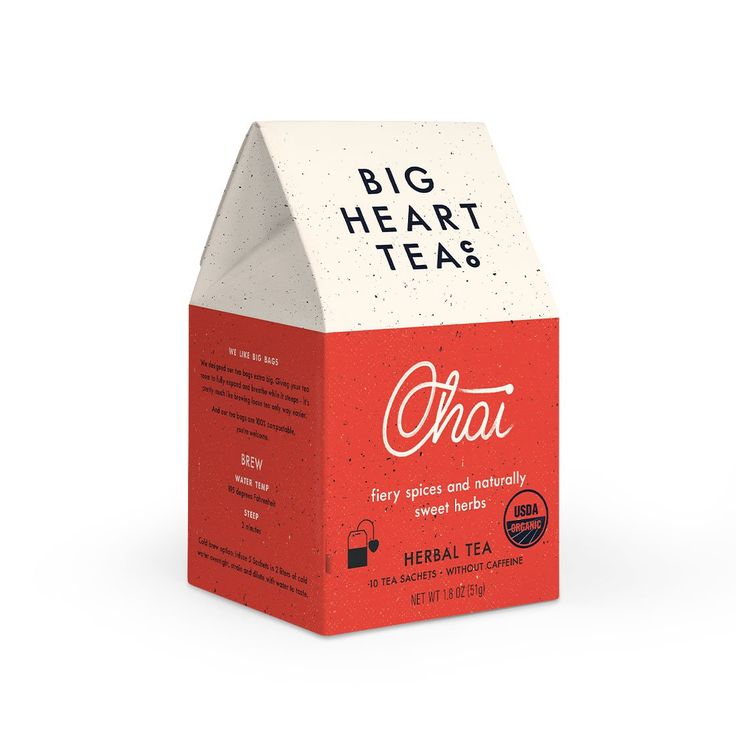 https://pl.pinterest.com/pin/395402042280300299/
4. Illustrated Pattern Packaging Designs: An illustration is an interpretation or visual explanation of a text, concept or process, designed for integration in published media. Patterns and illustrations can be so much more than just embellishment. They reveal what a product is all about. In 2021, you can expect to see a lot of intricate patterns and illustrations on packaging and expect it to be doing only one specific job, which is giving you a hint about what's inside. An illustrator can be hired to create original art prints or digital printables for sales promotion of your product.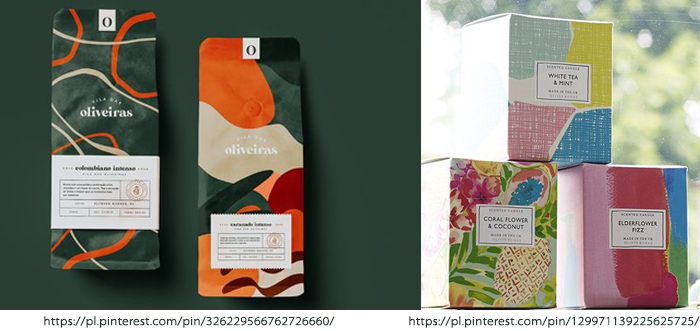 5. Abstract Packaging Designs: As the meaning of the word "Abstract" suggests that it is something or some idea which is the mind but does not have a physical form or existence, the abstract packaging designs are ideas which need to be converted into attractive designs with the help of creative design agency.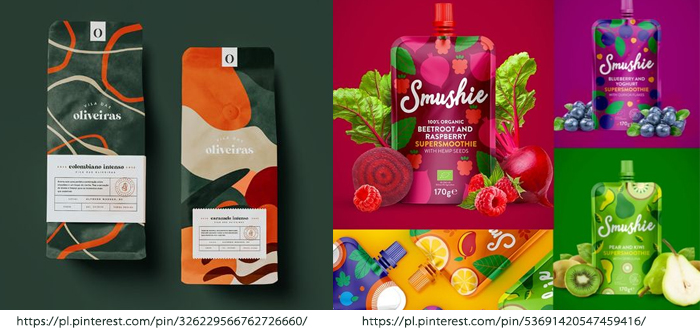 6. Geometric Packaging Designs: Another packaging trend we'll see a lot of in 2021 is designs that make use of extremely simplistic, but bold geometric concepts. We'll see bold geometry with neat lines, sharp angles and expressive colours giving packaging designs the edge. Much like the pattern trend, this trend also gives consumers a sneak peek at what a product stands for. But unlike patterns and illustrations, which depict what's inside the box, these designs are abstract to the extreme. It may seem simple at first, but it's an incredibly impactful way for brands to make a statement and leave a lasting impression.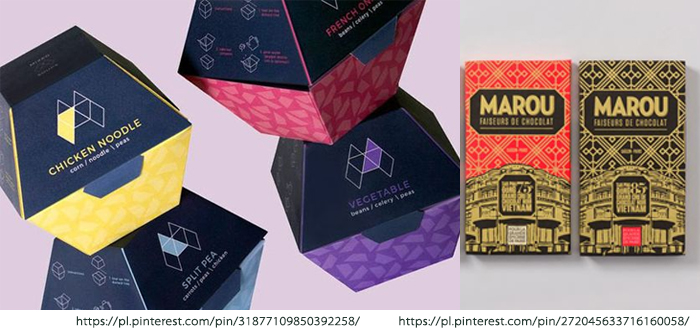 7.Rustic Packaging Design Concepts: In the lines of the rocking trend of minimalism, let's look into the rustic packaging inspirations. Rustic design style is defined with a lot of emphasis put on rugged and natural beauty. The usual designs include lots of wood inspirations and toned warm colours. It can be expressed in the interior designs but also in packaging. Rustic elements will mostly mean wood imitations in print and lots of brown colour in the patterns.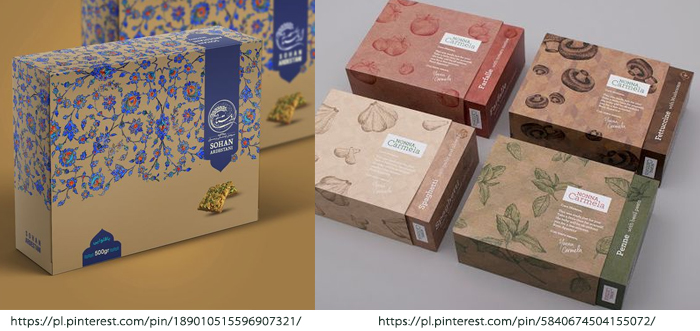 8. Classy, Vintage and Heritage Packaging: Most brands with long histories, often have an extensive classy vintage and graphic heritage they can draw upon. For instance, the age old beer companies which have excelled by looking back into the past. Similarly, Kodak's 2016 rebrand drew heavily from the 1970s version of their logo. Not every company has a 100+ year history on which they can lean on for design inspiration. But, that's not stopping many young companies from trying. Across a range of industries, many new brands are appropriating older styles in order to leverage shoppers' emotional attachment of the past.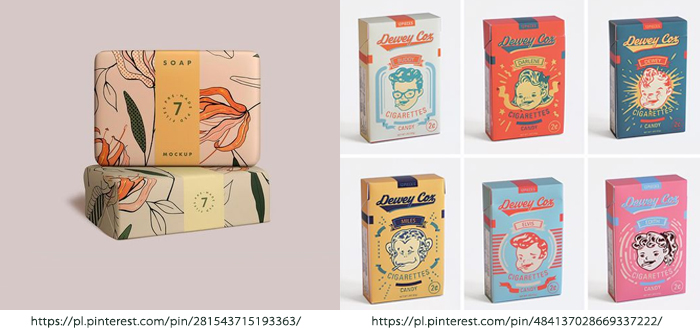 9. Solid Single Colour Packaging Designs: You'll see product packed in single colours, right alongside bold packaging that reads like a comic book. Although, it's working with a far more limited palette, this packaging trend has no less character than any of the others in this list of the year 2021. One thing you'll notice about these packaging designs is that they use bright and bold colours.
10. Story Telling Packaging Designs: Storytelling also plays a key role in any of the effective brandings. In 2021, you will see lots of brands extending their storytelling onto their packaging. This year will bring to us the characters which go beyond being simply mascots to seemingly look like living their own fleshed out stories. So, you should take the advantage and share through your product packaging as much of your brand story as possible. This is your chance to make a lasting impression and help your audience to really get to know about you and your brand.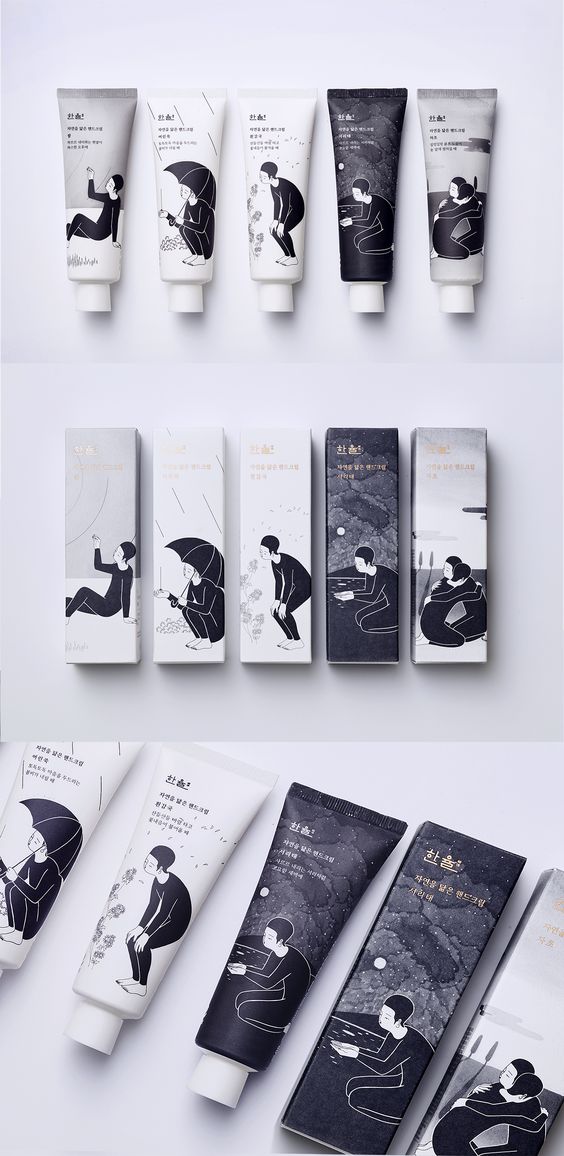 https://pl.pinterest.com/pin/492649944916216/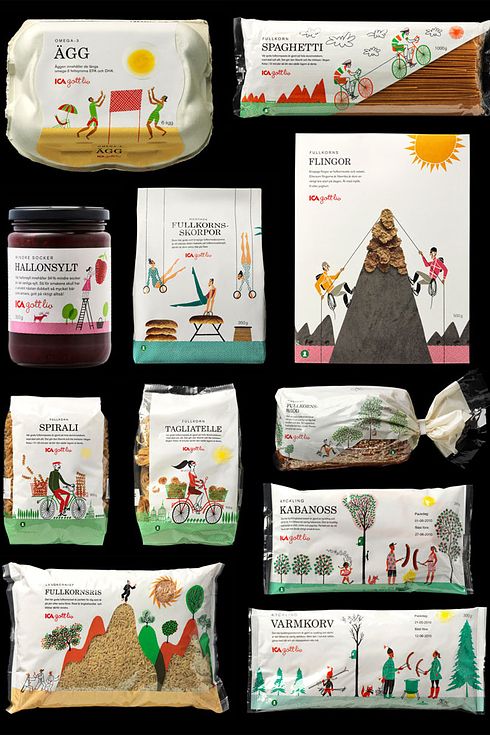 https://pl.pinterest.com/pin/521221356845333997/
11. Floral & Earthy Packaging Designs: A stylish and vintage trend we can't get enough of is packaging covered in rich, warm florals and natural, earthy tones. While this trend has a feminine vibe to it, it can also be warm and comforting. This combination of lush, rich floral illustrations with simple typography results in a classic style that creates an approachable yet luxurious look.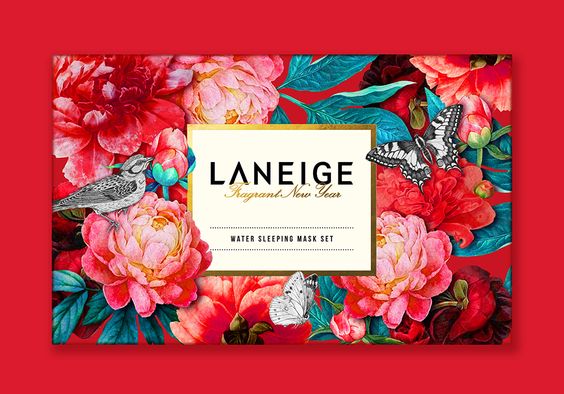 https://pl.pinterest.com/pin/216243219589162592/
12. Interactive Packaging Designs: Some examples of interactive packaging would include wine bottles with colouring or "connect the dots" labels which invites the drinker to draw upon the label. It is an approach commonly used by brands to get their customers to interact not only with the product inside, but with the packaging also.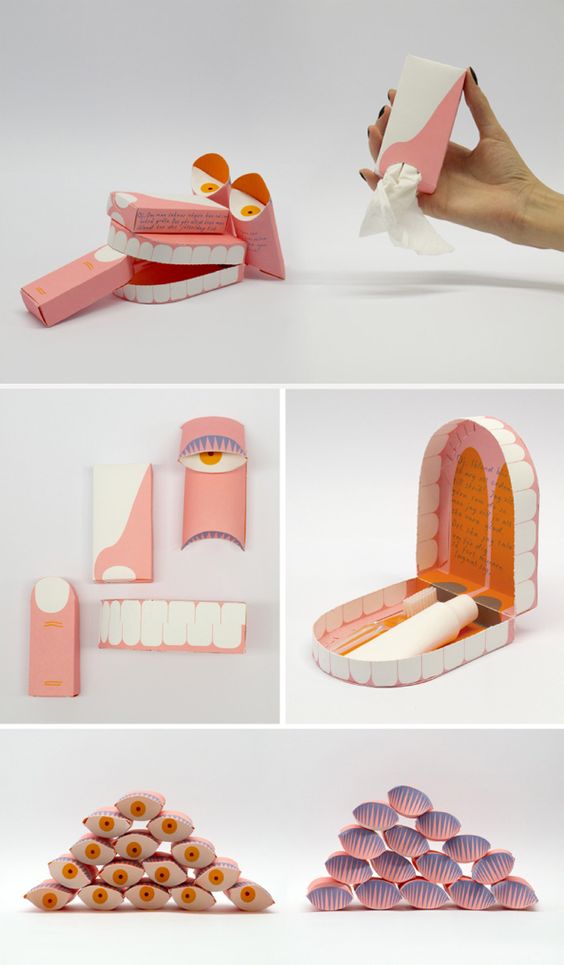 https://pl.pinterest.com/pin/384424518192138437/
Takeaway: Great packaging designs get the buyers pumped up about your product even before they open it, so please don't miss the opportunity to woo them from the moment they see it. So, if you're planning to unleash a new product in the market in 2021 or looking to redesign a current product's look, then pack it up in one or more of these hottest trends.